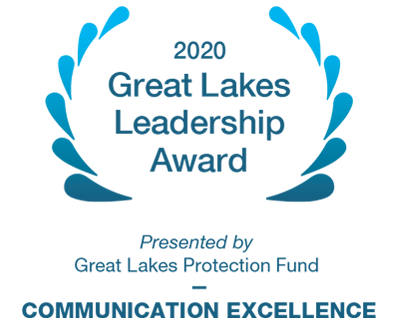 Storytellers Who are Leading the Way to Protecting the Great Lakes
In a year punctuated by both a health and an economic crisis, we need stories that elevate solutions, spread understanding, and spark action. The Great Lakes Protection Fund is excited to celebrate three journalists and three organizations for their outstanding storytelling and reminding us that powerful narratives can inspire action.
The 2020 Great Lakes Leadership Awards for Communication Excellence recognize the importance of storytelling in raising awareness of threats to the Great Lakes – from climate change to toxic algae blooms to human encroachment – and capturing widespread support for solutions that promote the health of nature and people.
Meet our 2020 Leadership Award winners:
Peter Annin
Environmental Reporter and Author
Environmental journalist Peter Annin, author of The Great Lakes Water Wars, says we have transitioned from the century of oil to the century of water, the most significant resource in today's global economy. That gives the Great Lakes a lot of clout. To strengthen support, Annin highlights the challenges of water governance in the Great Lakes system.
Dan Egan
Reporter for the

Milwaukee Journal Sentinel

and Author
In his New York Times best seller The Death and Life of the Great Lakes, Milwaukee Journal Sentinel reporter Dan Egan weaves together a decade of stories about the history and science of the region to explain how the once devastated ecosystem is making a comeback.
Tom Henry
Environmental Reporter for the

Toledo Blade
Tom Henry has been covering the Great Lakes for 40 years – longer than any other journalist. As a reporter for the Toledo Blade, Henry says that a fascinating thing about covering the Great Lakes is there is always a new story to tell. Through his writing, Henry helps people understand their connections to nature while holding policymakers accountable for keeping water clean and accessible to everyone.
Great Lakes Now
Public Television Series and Multi-media News Hub
Great Lakes Now is a production of Detroit Public Television and includes a monthly television program and a digital media platform. It features issues impacting the region and highlights the many ways the health of Great Lakes affects people in the U.S. and beyond. Program director Sandra Svoboda explains, "For the 40 million people who live in this region, there are a lot of jobs and a lot of economic issues tied to the lakes. We try to present a balance between, 'how did this happen' and 'what are the solutions going forward?'"
Institute for Nonprofit News
Producers of Report Series

Rust to Resilience
Rust to Resilience, a collaborative reporting project led by the Institute for Nonprofit News tells stories about the impact of climate change on the Midwest. Through its programming, INN explores the ways heat waves, flooding, severe storms, and aging infrastructure leave the area vulnerable to the impacts of climate change. "We always try to report on solutions," says INN's collaborative leader Sharon McGowan. "Whatever the challenge is, there may be a creative solution in another city, in another state, in another country. Sharing that is an important part of journalism."
US Water Alliance
Advocates for Great Lakes Water Management
US Water Alliance is working to address systematic racism in our water systems. But as CEO Radhika Fox notes, the role water plays as a great unifier features prominently in the story of the Great Lakes. She points to investment in water infrastructure as one of the best bets we can make to create jobs, grow the national GDP, and put money in the pockets of more families.
---
Each of this year's Great Lakes Leadership Award winners is receiving a $10,000 prize in recognition of their efforts to amplify solutions for strengthening and protecting this critical resource.
For more than 30 years, the Great Lakes Protection Fund has supported innovations that improve water quality in the Great Lakes system. We applaud this year's winners for calling awareness to critical issues and inspiring people to take action. We hope you'll take a moment to watch these videos and hear the stories of these important storytellers.
For further information:
Amy Elledge 847-425-8190
aelledge@glpf.org