A Few Thoughts on 25 Years…
Russell Van Herik, Executive Director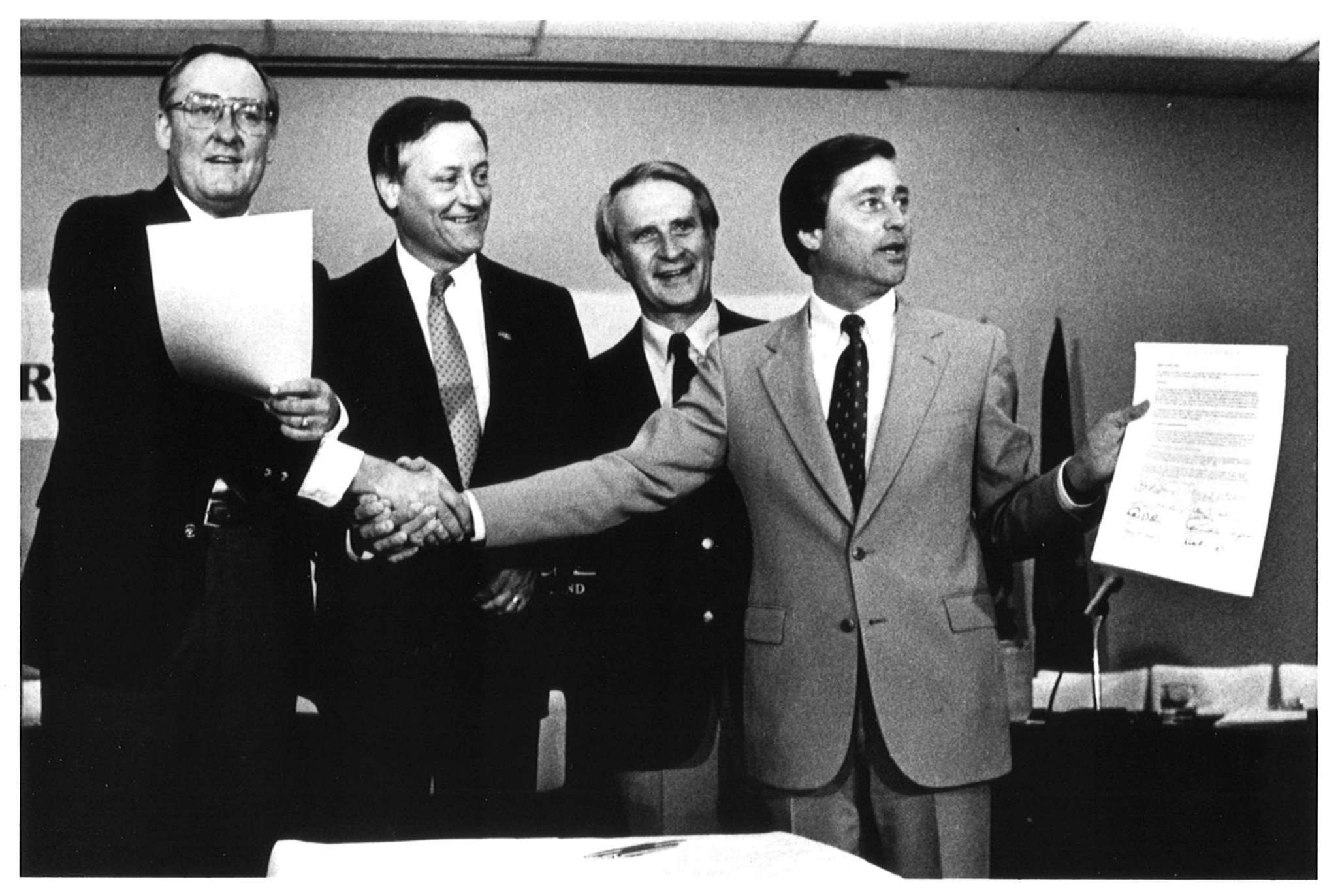 Governor Thompson (IL), Governor Celeste (OH), Governor Earl (WI) and Governor Blanchard (MI) signed the Letter of Intent Relating to the Great Lakes Protection Fund in 1988.
Last year was the twenty-fifth anniversary of the Fund's creation. It was a good time to commission a broad external enquiry, to gather and assess perceptions. Below I have written a few thoughts to help you navigate through our approach to problem solving, its constraints, and its enduring strengths. (I am especially eager to share traits that were identified by some interviewees as structural flaws and by others as primary strengths, because therein you might find creative tension and opportunity).
While the Fund reports to governors, it does not speak for the governors. Its projects should serve the long-term unified interest of the governors—a group of sovereigns, necessarily sharing a common ecosystem asset—in a manner recognizing eternal and ever-evolving competition. Most likely, a project that begins during one governor's term will only show results for her/his successors.
The Fund was designed to accept risks too large for venture capital—to discover sufficient promise that will attract substantial future backing. At times, we have built portfolios of projects testing new ideas that may be in competition with each other or based upon conflicting theories of change. We try to fund winners without picking winners.
The Fund provides seed capital to get collaborative, multi-disciplinary teams into action. It cannot provide enough money to get successful pilots to scale. Getting to scale requires having at the table everyone necessary to cause a systemic change. Often that means project teams are a group that has never worked together before, and probably never will again. That is not efficient or quick; it often is necessary, cumbersome, and right.
Our mission is to improve the physical, chemical, and biological health of the Great Lakes, and to make their waters more valuable. Largely, that means inducing changes in human behavior.
In biology, it means designing new governance models that will determine which newly engineered species can be released into the Great Lakes. An approach to synthetic biota that works for the multitude of Great Lakes jurisdictions will necessarily imbed characteristics applicable to the same issue at planetary scale, so we expect teams with pretty broad constituent awareness.
On the other hand, some chemical, agricultural, industrial or indemnification challenges might be more unique to Great Lakes conditions, and teams will go much more deep and local. Many projects will end up modifying their work plans, budgets, team membership and timelines as their work unfolds. The Fund is supportive of project evolution.
Most teams that get funding have initiated a relationship that has grown out of extensive, informal discussions that hover over the intersections of science, finance, politics, civic engagement, business models, risk shifting and optimistic unknowns.
Imagination and indefatigable curiosity are critical to project design. In our world, project design is a journey we take together.
-Russ Van Herik, Executive Director