Great Lakes Governors Meet with Protection Fund Board Members in Chicago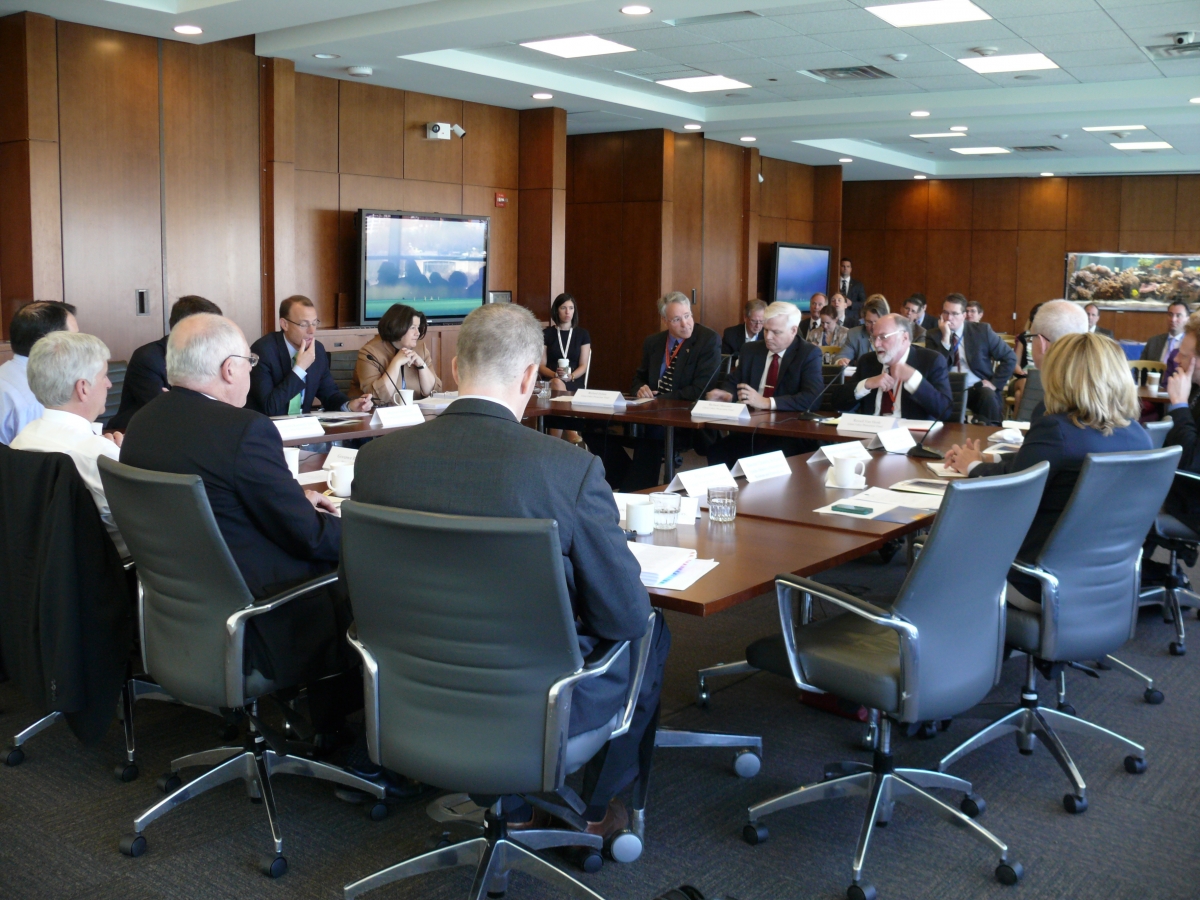 Great Lakes Protection Fund board members reviewed 25 years of Fund activity with several member governors, senior staff representing the premiers of Quebec and Ontario, and other state leaders on April 26, 2014. Meeting at the Shedd Aquarium in Chicago, Governors Snyder, Quinn, and Walker discussed the Fund's unique structure, its investment record, and program highlights.
Because public-private investment initiatives are being explored in many settings—education, transportation, infrastructure, and elsewhere—a 25 year history at the Fund offers some intriguing insights.
The meeting participants discussed the Fund's architecture and how it differs from many propositions now on the table. Most public-private initiatives look to attract private funds into providing public benefits, with long-term economic returns directed back to the private investors.
In contrast, the Fund was designed to make public capital—the initial $81 million endowment—available for investment by a private corporation—the Protection Fund—which can then use private investment and project management tools to accomplish public benefit. The corporation cannot spend any of the public money, only its investment returns, to accomplish its corporate mission.
Opening the discussion with some quantitative background, the chair of the Fund's board, Richard Hylant, confirmed that the public money, provided by the Fund's member states, remains unspent. By investing that public money, the corporation has achieved a 7.6% average annual rate of return over the last 25 years. Those earnings have allowed the board to:
Increase the original $81 million endowment to $130 million in assets, to protect its purchasing power over time,
Commit over $68 million to 254 regional project teams involving over 2500 institutions,
Send over $45 million back to member states to use in their discretion for their own Great Lakes priorities,
Connect with more than 500 experts to advise the fund on opportunities and challenges facing the Great Lakes, and
Engage with over 400 technical reviewers to help project applicants improve their proposals and ensure that their work will have maximum impact.
Looking forward, board member Richard Meeusen led a discussion about how the Fund's work leads into the emerging "Blue Economy." He reviewed the strengths of the Great Lakes water technology sector, and the opportunities identified by the Fund to ensure that healthier economic development is built upon strategies that cause and sustain healthier ecological conditions.
The Governors requested no changes of Fund priorities, procedures or governance.