How-To Guide for Building Pay-For-Performance Conservation Programs to Improve Water Quality
Shannon Donley – Project Implementation Manager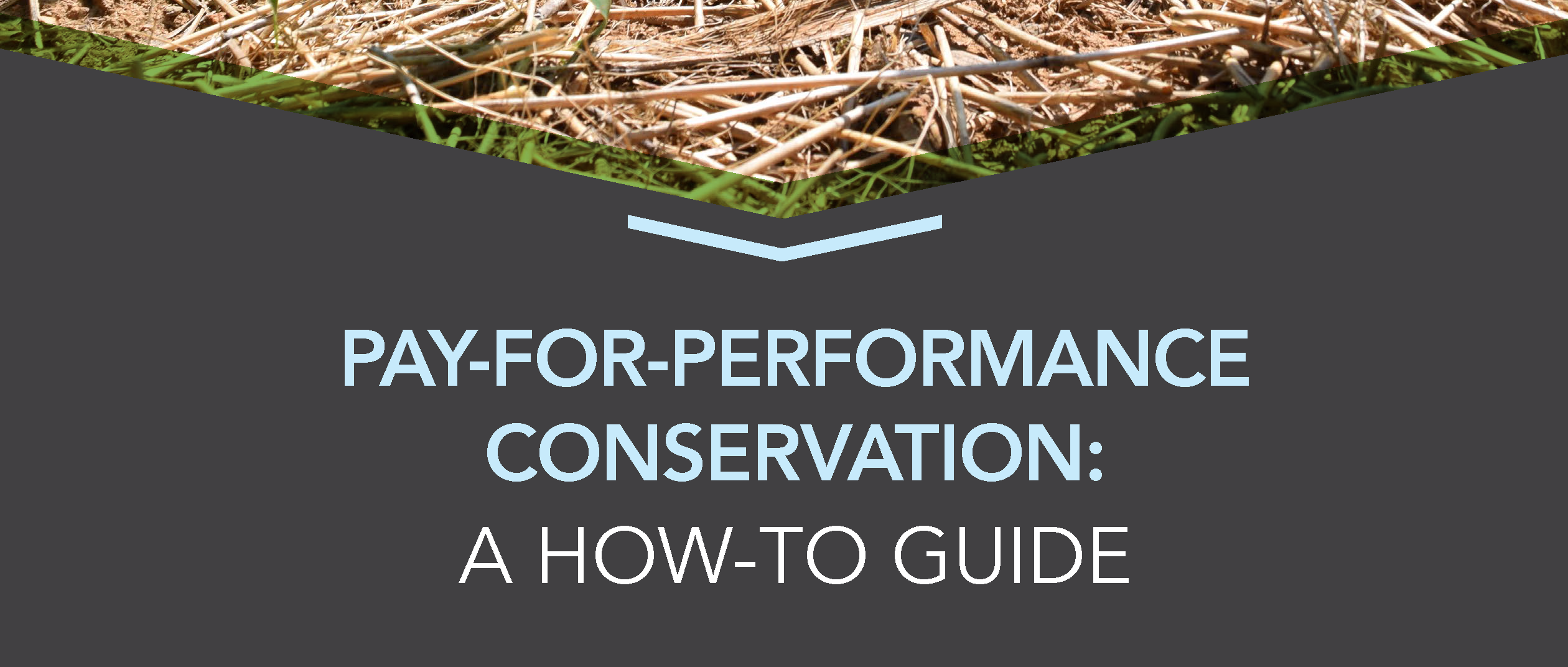 Pay-for-performance conservation, where farmers are paid for the fertilizer they keep on their fields and out of nearby streams and rivers, is a win-win for the farmer and the environment. Pay-for-performance isn't new – it's commonly used in a variety of professions. (Are your annual salary raises tied to your performance at work? If they are, that's pay-for-performance.)
The use of pay-for-performance in agriculture to protect water quality is still uncommon but is starting to gain traction. Historically, state and federal governments have approached conservation as a rigid, top-down approach where farmers are paid to implement a practice – without regard to how well that practice met environmental goals. In contrast, pay-for-performance is an approach that appeals to farmers as problem solvers and as business people, because it provides flexibility to let the farmer decide on the practices best for their fields, and allows them to be paid on the performance of those practices. The better the practice is at keeping nutrients out of area waterways, the higher the payment is to the farmer.
So how does one build a successful pay-for-performance conservation program? Well, step one is to read this How-to Guide, and to reread it, and to carry a dog-eared version around with you at all times because you will refer to it often. It was developed by a Fund-supported team led by Winrock, in partnership with Delta Institute and Sand County Foundation. Working in the upper reaches of the Milwaukee River watershed, the team piloted an innovative pay-for-performance approach to pay participating farmers on the amount of phosphorus farmers kept on their fields and out of nearby streams and rivers.
What's great about this how-to guide is that not only does the team share their experiences in the Milwaukee River watershed in Wisconsin but the team shares their experiences implementing similar programs in Iowa, Vermont, Michigan, Ohio and Ontario.
This is a refreshing read, filled with eye-catching visuals and with a strong focus on keeping the content engaging, understandable, and most importantly, useful to the audience reading it. In addition to writing about their successes, the team describes where they struggled, and mistakes they made. The lessons learned section provides thoughtful insight into how program developers, program implementers, and farmers all view pay-for-performance.
Find the how-to guide and other products on the team's website at: http://bit.ly/2fL2kNa
Project write-up on the Fund's website: https://glpf.org/funded-projects/reducing-phosphorus-loads-from-agriculture-creating-a-pay-for-performance-program-using-field-specific-information/
–Shannon Donley, Project Implementation Manager