Meet the Winners of the 2019 Great Lakes Leadership Award: AquaHacking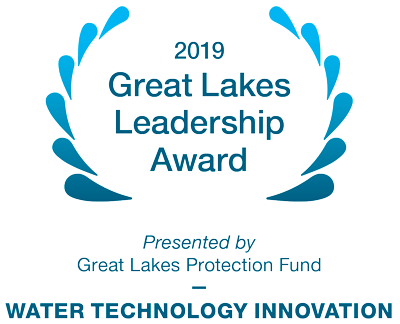 The Great Lakes Protection Fund is pleased to recognize the winners of the 2019 Great Lakes Leadership Award for Water Technology Innovation. We created the Leadership Awards to celebrate efforts that accelerate new actions for protecting and improving the Great Lakes and that have the potential to improve water quality on a global scale.
Winner: AquaHacking Challenge, Montreal, Quebec.
Established in 2015, AquaHacking encourages young innovators to research and develop clean-tech solutions to issues impacting water quality. The AquaHacking Challenge is bringing in fresh perspectives of young entrepreneurs around freshwater issues.
By connecting the winning teams to data, mentors, and experts in water, programming, artificial intelligence, design, data analysis, business strategy, and marketing, Aquahacking ensures young entrepreneurs are incubated until they are able to take their new ideas to market. For example, one recent winner is addressing the blue-green algae crisis in Lake Erie by developing a portable system to capture water samples and identify different species of blue-green algae in the water on site—faster and much more cost effective than the current method of shipping water samples back to a lab.
"AquaHacking is leading the way in engaging the next generation in developing innovative solutions to the challenges of tomorrow," said David Rankin, executive director of the Fund. "By providing young entrepreneurs with support and encouragement every step of the way, AquaHacking is accelerating fresh ideas and putting them on a strong path to improving the health of the Great Lakes."
"Choosing to tackle critical issues in such an expansive and complex region was definitely ambitious," says AquaHacking COO Isabelle-Anouk Bourduas, "but we're excited to see what solutions our competing teams will bring to the Great Lakes and we're overjoyed to be recognized and rewarded for this ambition."
The path to bringing a solution to market involves a number of critical stages and through its unique program, AquaHacking offers mentorship and resources to the winning teams as they move from project stage to becoming fully fledged startups. The 2019 Challenge is focused on the Great Lakes and St. Lawrence watershed, and winning efforts will be rolled out across Canada by 2020. Past challenges have focused on Lake Ontario, Lake Erie, the St. Lawrence River and Ottawa Rivers.
"We're seeing incredible results in the water sector from our alumni, from data tracking on recent floods to detecting potential pipe bursts in a growing number of municipalities, including the City of Montreal," says Bourduas. "This award reinforces our conviction that investing in young innovators will make a lasting difference as we continue our mission across the country."
Learn more at www.aquahacking.com.
Find out more about the Great Lakes Leadership Awards for Water Technology Innovation.
Categories
Events
Leaders
Leadership Awards
Technology