Systems Thinking and the Great Lakes
David Rankin, Program Director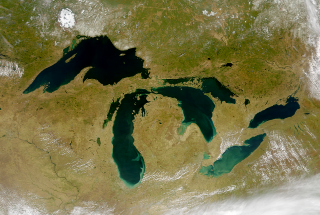 I participated in a recent three-day workshop that piloted a systems-thinking approach for funders. We explored the issue of harmful algae blooms in the Great Lakes with the help of experts who are trying to solve the problem, and systems-thinking facilitators who helped us structure the problem and explore possible solutions.
I really appreciate the generosity of the experts who volunteered their time, energy and knowledge; the Johnson Foundation at Wingspread who provided the location; and the funders who provided financial support.
It was a chance to learn more about a serious problem facing the Lakes, explore a powerful technique to help a group of funders to more effectively intervene, and to catch up with friends and colleagues that I have not stayed as close to as I should.
A promise made at the outset—that the participants would leave exhausted—was easily kept.
A few important things jumped out at me.
"Systems thinking" is a powerful tool, if you put in the time it takes.
I came to this session having used a number of management strategies: total quality management, statistical process control, classic operations theory, and applied game theory. All of these approaches help one better understand how complex processes work and what might be done to have those things work better.
The difference in, and the key value added by, systems thinking is the emphasis on feedback loops—not only to understand how Event A causes Event B, but also to explore how Event B causes (or prevents) Event A. Exploring feedback allows one to see what makes complex systems, well, complex. Mapping these relationships can allow one to identify where "interventions" might be most beneficial.
It seems to me that the dominant creative tension in using this approach is the temptation to focus too much energy on documenting system complexity (what it is today) at the cost of exploring system dynamics (how the structure has changed, will change and can change over time). To get to this point requires time, engagement with the right people, and trust (which also takes more time). In our introduction, we had only limited time and limited sets of expertise. We never really got to the point of exploring how the system will evolve, much less how it should evolve. My sense is that the value for funders, or at least the Fund, is in better understanding how to shape the dynamics of the systems we work on, rather than in understanding how one could optimize how the current system operates.
We'll need to keep working at using this tool. Having said that, the exploration we did was valuable.
Here's why.
There are new, sometimes toxic, nuisance algae conditions in at least four of the five Great Lakes.
While this is happening in most of the Great Lakes, and perhaps most evident in Lake Erie's western basin, it is part of a continental, if not global, increase in algae-related problems. Some of the most serious by-products of these nuisance algae conditions are the harmful algae blooms that release toxins like microcystin (which can cause illness, or worse) and the increased growth of other algae that contribute to outbreaks of diseases like avian botulism.
Roughly simultaneous changes in physical, chemical and biological inputs have given rise to these conditions.
The basin's physical hydrology is changing due to storms that are more frequent and rainfall that is more intense. These natural changes have led to physical changes on the land to help us deal with increased precipitation—the installation of more drain tile per acre of farmland to keep up.
The chemistry has also changed significantly, which is evident by the historic high levels of soluble reactive phosphorous (SRP) that is entering the tributaries and that is available to algae in the Lakes. (As a recovering environmental chemist, this is shocking to me.)
Biologically, the addition of zebra and quagga mussels has altered how phosphorous is used in the system, effectively making the Lakes more sensitive to phosphorous inputs.
As one participant put it, "Everything has changed, and it's all going in the wrong direction."
Some of these input changes are unintended consequences of past "successes."
Successful advances in sediment control and phosphorous runoff—such as no-till or conservation tillage systems—to keep soil on the farm fields have played a part in the chemical changes we are now seeing in the Great Lakes. It seems that phosphorous levels have accumulated in the soils and are now providing more of a more potent kind of phosphate to the Lakes—soluble reactive phosphorus (known as SRP.) In systems terms, this is a classic "fix that fails."
The current outbreaks are also—at least in part—a result of the game of "ecological Russian roulette" we've been playing with the system. The engineering marvels, and promises of economic opportunity, that connect the Lakes to saltwater ports around the globe (and other freshwater systems) have led to a series of biological invasions that periodically, and fundamentally, reconfigure the biological structure of the Lakes' ecosystem. The non-native mussels that have taken up residence in the Lakes have made the system more sensitive to the altered phosphorous inputs.
Understanding how these "fixes" may have failed in important ways, and how the institutions that support those approaches can evolve in response, are very important areas to explore.
Successful interventions will be different than those of the past.
Solving these problems requires intervening in the physical, chemical and biological dimensions simultaneously and perhaps on a greater scale than previously attempted.
This means we will need "whole farm" approaches that make lake-friendly farming attractive, profitable and secure. It also means thinking more expansively about on-farm practices by taking a fresh look at conservation and drainage practices, and by looking at larger portions of the agriculture value-chain: working with input providers, crop advisors, co-ops and buyers to create the conditions for a smaller SRP footprint. The era of relying exclusively on specific, government-subsidized, "best" management practices may soon be over.
It also means stopping the introduction of invasive species. We need to be sure that the canals linking the system to global trade, and the vessels that use them, are not exacerbating the problem. This means creating not only the methods to do things differently, but also building the courage and will to try them. We are making progress here, but the specter of invaders like the Golden Mussel, brought to the region's attention by Fund grantees, should keep us focused on keeping all invaders out.
I am delighted that the Fund is supporting collaborative teams exploring these very issues, designing solutions and testing them on-the-ground.
How you can help.
The Fund's interest is to invest in efforts that alter the dynamics of the system—rejiggering it to create food, economic prosperity and healthier lakes at the same time.
We welcome your ideas about how and where innovation can help do this.
What is a logical intervention point and what collaborative teams are required?
Are there non-farm opportunities in the agricultural value-chain that we should be looking at?
Are there systems thinking approaches being applied to other ecosystems, or even other industries, that will help us frame our thinking?
Do you have personal experience with systems thinking approaches and do you see any downside to applying this method to an ecosystem?
Comments are open. Please jump in!
– David Rankin, Program Director
Some Additional Resources:
Dancing with Systems—an excerpt from Thinking in Systems by Donella Meadows
Intro to Systems Thinking —from Daniel Aronson, the host of the Thinking Page
Understanding Lake Erie presentation—by Dr. Jeffrey M. Reutter, Director, Ohio Sea Grant College Program