The Next 25 Years- Challenges and Opportunities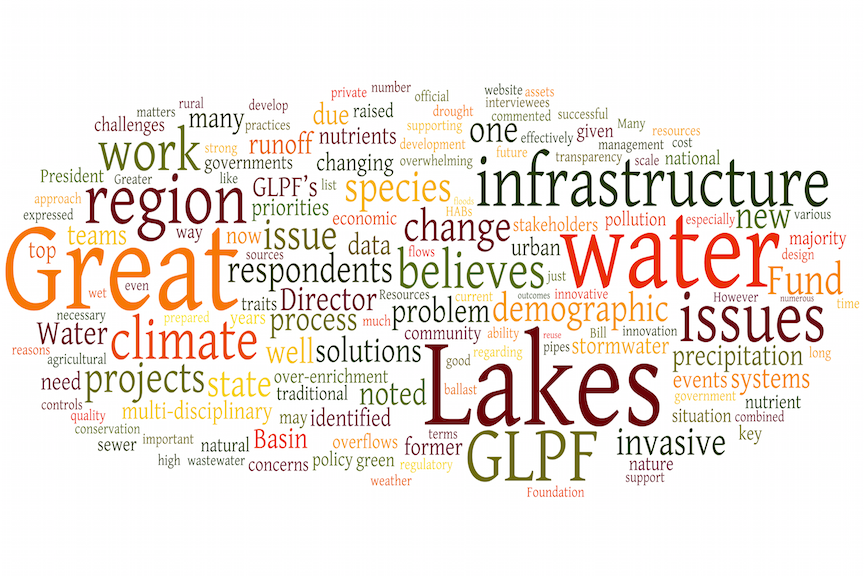 In late 2015, the Fund commissioned Tracy Mehan to survey basin leaders and other experts about the challenges facing the Great Lakes, what strategies might be used to meet them, and how the Fund can play a role.  His report  (pdf, will open in a new window) is now available.
Fifty-one experts identified five major challenges for which the region is not prepared: a changing climate, excess nutrients in surface waters, outdated water infrastructure, invasive species and changing demographic and economic patterns in the basin. These challenges overlap- each influencing the others.  The solutions, therefore, must address multiple challenges. No specific solutions were offered, but the Fund was encouraged to consult experts, assemble multi-disciplinary teams and test solutions.
We are committed to doing just that and have begun to reach out to experts to define a path forward.  Watch this space for the results of those consultations.  Drop me a note if you want to share your ideas.
The interviews also showed that the Fund has made good progress in being more transparent to various stakeholders, and that we can still do more.  In particular, we will work to be clearer about where our expert advisors see opportunity, and where potential project ideas are not a good fit with the Fund. Again, your ideas about how we can better do our work are welcome.  Drop me a note at drankin at glpf dot org.