Vacant to Vibrant: Legacy City Design
Shannon Donley, Project Implementation Manager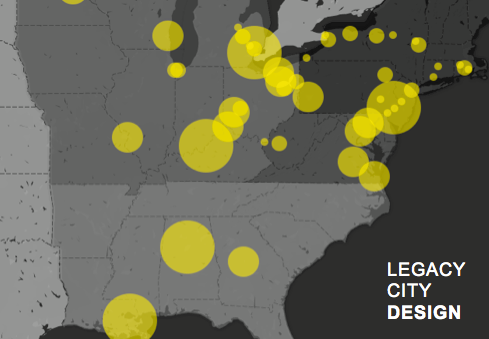 We want to recognize our Vacant to Vibrant team, led by Sandra Albro at the Cleveland Botanical Garden, whose work is currently being featured on the Legacy City Design website.
Legacy cities are characterized as U.S. cities that have "experienced a continuous loss in population and jobs since their peak" and that are struggling with large scale vacancy, building abandonment, poverty, obsolete infrastructure and diminished service capacity and resources. The primary role of the Legacy City Design network is as an online idea exchange platform to share the innovative and revitalizing design practices taking place right now in legacy cities to address these chronic urban problems.
The Vacant to Vibrant team is distinguishing itself by being the first to look at using vacant parcels of land not only to manage stormwater, but to serve as sites for neighborhood stabilization in underserved communities. By developing a unique site selection process and listening closely to the needs of area residents, the team is strategically placing green infrastructure to attain not only environmental, but also social and economic benefits.
Visit the Legacy City Design site to read more about the innovative design practices currently underway in many cities including the Vacant to Vibrant team's green infrastructure installations in Gary, IN.
More information about the work underway in Buffalo, Cleveland and Gary is available on the Vacant to Vibrant blog.
(Image from the Legacy City Design Initiative)
– Shannon Donley, Project Implementation Manager