Webinar: Conservation Through Technology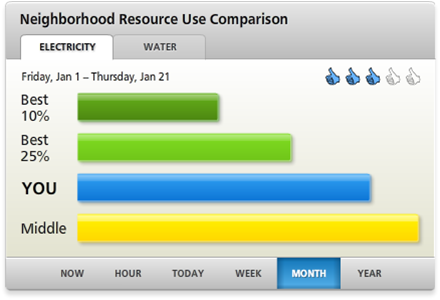 This second webinar in our series showcased projects from John Petersen and Jon Bartholic, who are using technology, including innovative web-based systems, to change behavior and motivate individuals to be better environmental stewards. With their teams they are testing how information technology can drive Great Lakes restoration.
Click here to view the webinar from January 26, 2011.
Networked Neighborhoods for Eco-conservation (NECO)
Jon Bartholic is leading a team that is developing ways to use social media and mapping technology to drive individuals and neighborhoods to take conservation actions that matter for the Great Lakes. By encouraging friendly competition among neighbors, NECO accelerates installations of rain barrels, rain gardens, porous pavement, and many other green practices that add up to significant improvements in not just local, but larger Great Lakes watersheds.
Real-Time Resource Use Feedback: Empowering Conservation
How do people change their water and electricity consumption when they see the impacts of their use in real time? What makes them use less? How can peer pressure, impact information and friendly competition change behavior? How can that information be systematically collected, analyzed and provided to the user at the time of resource use? A team led by John Petersen is exploring what kind of feedback mechanisms lead to behavior change and reduce environmental impacts.