Great Lakes One Water Partnership: A Force Multiplier for Great Lakes Impact
Guest Post by Dondré Young, Council of Michigan Foundations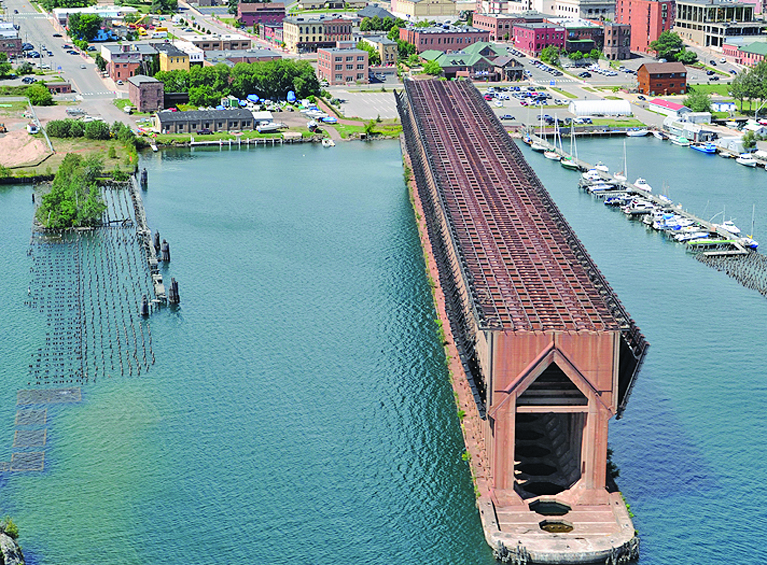 Water defines the Great Lakes region. It is the foundation of our identity and is essential to our environmental, economic and cultural fabric. Regional leaders have long understood the value of water and have a proven track record of working together to protect and preserve water resources.
While the Great Lakes is a place rich in water resources, it is also the location of some of the most serious water crises in recent American history. Residents in communities along the shores of the Great Lakes have endured homes and businesses submerged under water, water shut off to thousands because of toxic microcystins, and beaches fouled with harmful algae blooms that are unsafe for families to enjoy.
These are just some of the reasons that in 2018, a unique international group came together to accelerate the work of creating a sustainable water future for all communities in the Great Lakes.

The Great Lakes One Water (GLOW) Partnership is a basin-wide initiative focused on engaging shoreline community foundations as a force multiplier to advance a new era of water management. A total of 27 community foundations are working in six teams to advance collaborative water projects over a four-year span.
Water issues are complex and diverse stakeholders need to be engaged to drive progress. Community foundations have a unique role and opportunity as trusted partners for change and powerful communicators. Their efforts will catalyze progress across the Great Lakes region, multiplying results beyond what could be achieved independently.
The first year of GLOW Partnership efforts in 2018 were largely focused on the development of action plans that identify the challenges the region faces and outline strategies that will create more cost-effective water infrastructure that is equitable, sustainable, and resilient. Implementation of these plans will begin in 2019. The teams will work with local leaders to inject financial and intellectual capital, drive technology innovation and create a shared, basin-wide communications strategy for the Great Lakes that will build the public will for support and advancement of new solutions for long-term, equitable access to clean, healthy water resources.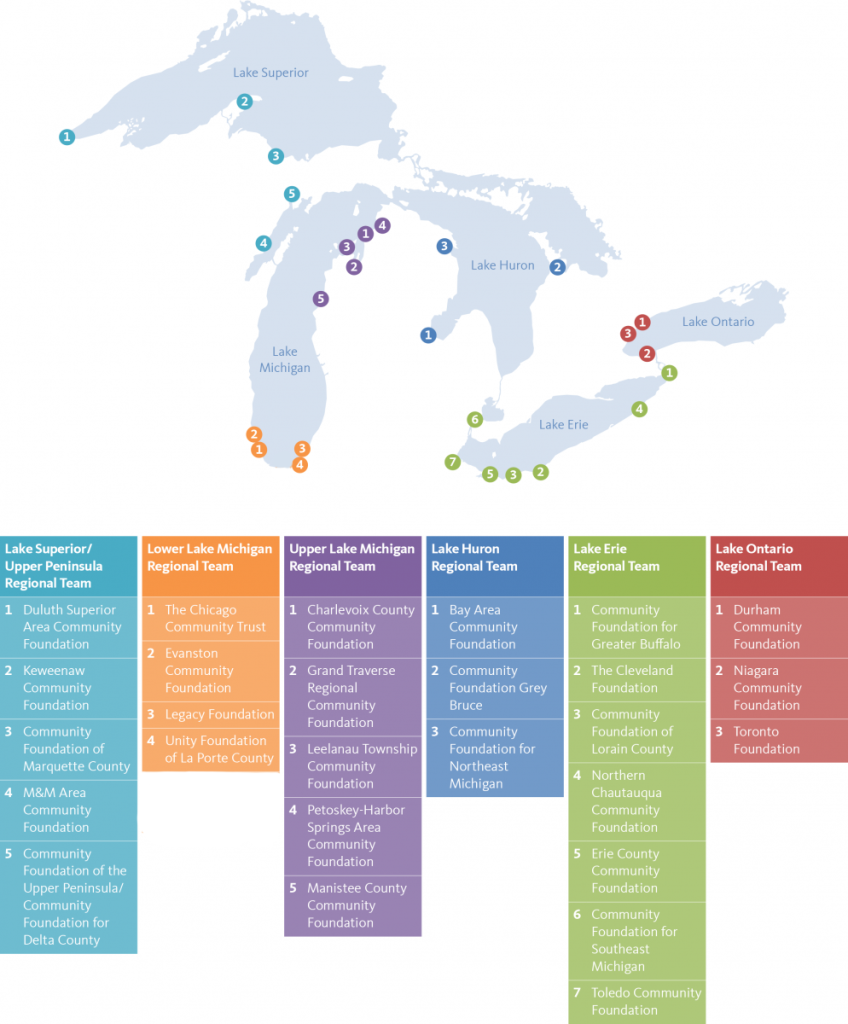 The first action plan to be completed was led by the Lake Superior/Upper Peninsula Regional Team of the GLOW Partnership. The Community Foundation of Marquette County announced the launch of the Resilient Future Project in partnership with the Community Foundation of the Upper Peninsula, Community Foundation for Delta County, Duluth Superior Area Community Foundation, Keweenaw Community Foundation and M&M Area Community Foundation.
The Resilient Future Project is driven by heightened senses of urgency to prepare for storm events and accelerate innovative green and grey water infrastructure actions needed to create resilient communities. Their work will advance climate change literacy and awareness and build the capacity of targeted communities in the Lake Superior and UP region to limit the negative impact of severe storm events on the health and wellbeing of people and the communities they love.
This project is just one example of the promise of what the GLOW Partnership work can mean for our shoreline communities.
Some of the other regional teams of foundations and their local partners have already made significant strides in advancing water infrastructure plans to improve health, economic development and equity in their communities.
Some are working on climate adaptation projects that will ensure their respective communities are prepared for the change in climate, and some are working to develop systems that will allow residents in their communities to engage in citizen science.
This truly special initiative demonstrates the amazing power of collaboration. Hundreds of individuals are working together to generate community support at all levels for timely, comprehensive action. They are building public-private-nonprofit partnerships, sharing best practices and seeking fresh approaches, all in the name of creating a sustainable water future for all communities in the Great Lakes.
____________________
The GLOW team is extremely grateful for the support of the Great Lakes Protection Fund. Their generous contribution to this work has allowed the creation and advancement of strategies that support and innovate financial investments in green and grey infrastructure.
Additional support has been provided through grant funds from the Ralph C. Wilson, Jr. Foundation and The Kresge Foundation. Their support has enabled the Council of Michigan Foundations (CMF) to provide project management support to the regional teams and coordinate a team of experts who support the foundations and their partners.
____________________
The Fund wishes to thank Dondré Young for this post. Dondré is a program coordinator at the Council of Michigan Foundations (CMF). Dondré's work is focused on researching, designing and delivering customized programs, events and networking opportunities for CMF members, with special focus on Michigan's family foundations. Dondré is a proud native of Flint and graduate of James Madison College at Michigan State University.