The First Clean Ballast Tank
The First Installation of Ballast Water Treatment Technology on the Algonorth
The footage is grainy by today's HD-TV standards. It shows a tanker surrounded by choppy water with no land in sight. A thick layer of gray clouds is overhead, and a crew member moves equipment around the deck of the ship. It's 1997, and the Algonorth isn't like any other ship in the world. It's the first outfitted with a module that filters invasive species from ballast water.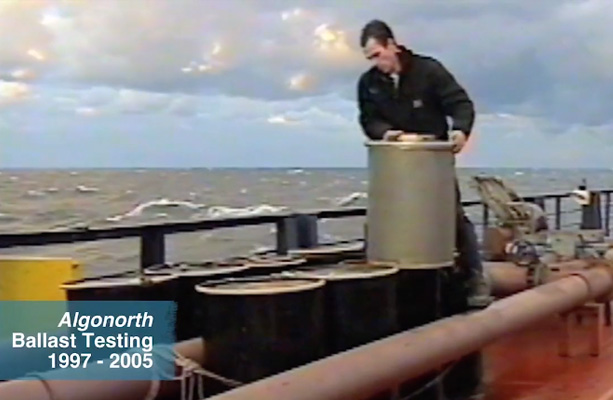 "We needed a technology," said Rick Harkins, one of the leaders of the Algonorth project. "We're talking about micron-sized organisms and things you can't see. There's a huge gap between working in a lab and putting technology on a ship that can effectively collect organisms."
Harkins had a 20-year career as a Great Lakes fleet supervisor before joining the Lake Carriers' Association as vice president of operations. The Association's then president, George Ryan, was concerned that Great Lakes shippers would be implicated in the introductions of aquatic invasive species like quagga and zebra mussels.
"George had the foresight to say, 'maybe we have to step up to the plate and find a solution," recalled Harkins, "and prevent these things from being deposited into the Great Lakes."
Testing on the Algonorth
With an investment from the Great Lakes Protection Fund, Harkins teamed up with Allegra Cangelosi, then of the Northeast-Midwest Institute, for a demonstration project of ballast water treatment technology. Harkins made the connection to the Algonorth, which was owned by Canada's Algoma Central Corporation and docked in Duluth, MN.
"Allegra was very interested in getting the technology onto a ship," Harkins said. "I had all the connections with the Algoma Central people. They were a forward-thinking company and were interested in doing the same thing."
One of the challenges was to develop a system that could handle the high ballast water pumping rates of Great Lakes ships, which discharge water much more quickly than saltwater vessels.
Then there was the efficacy of the filters themselves. "The team wanted to know, could a filter be operable on a ship?" Cangelosi (now with Penn State Behrend) later said. "What will it accomplish biologically in the number of microscopic organisms a ship carries around? We succeeded in demonstrating that yes, filtration is practicable on ships."
In fact, the pilot system removed over 90% of the particles that would include invasive species, making the Algonorth's ballast tank the cleanest in the Great Lakes.
Continuous Technical Development
Both ballast water regulations and the shipping industry have evolved. Many saltwater vessels are now outfitted with ballast water treatment technology, including those of Montreal-based Fednav. Of its 45 ships, 13 already have a treatment system. In addition to treating ballast water, oceangoing vessels flush their tanks at sea to remove contaminants and reduce invasions. Fednav has been proactive in installing the treatment systems as part of its corporate social responsibility approach.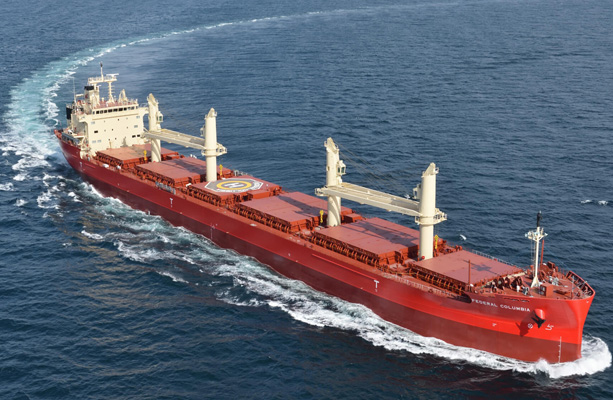 "Aquatic invasive species are a risk," said Marc Gagnon, Fednav's director of government affairs and sustainability. "We do a lot to minimize the risk. We have been at it for 20 years, researching it and spending millions on finding a solution. We're monitoring the efficacy of these systems and doing our part for the lakes."
The Algonorth was taken out of service a few years ago, according to Algoma Central, but the experiments on the ship more than 20 years ago paved the way for a multibillion-dollar industry. Harkins describes the piloting of ballast water treatment technology—and the support of the Great Lakes Protection Fund—as seminal moments in Great Lakes shipping history.
"[The Fund] was instrumental in putting ballast water treatment technology out in front of the world," Harkins said. "Without them, I don't know where we would be."
—
Start a Conversation
At the Fund, our goal is to build something—together—that delivers impact. You have an idea and a strategy in mind and we have a basin-wide perspective and experience launching new initiatives. We strongly encourage you to contact us to discuss an idea, whether fully formed or not, as a first step.
Email us at startaconversation@glpf.org