Smart Management of Microplastic Pollution in the Great Lakes
Guest Post by Yongli Zhang, Wayne State University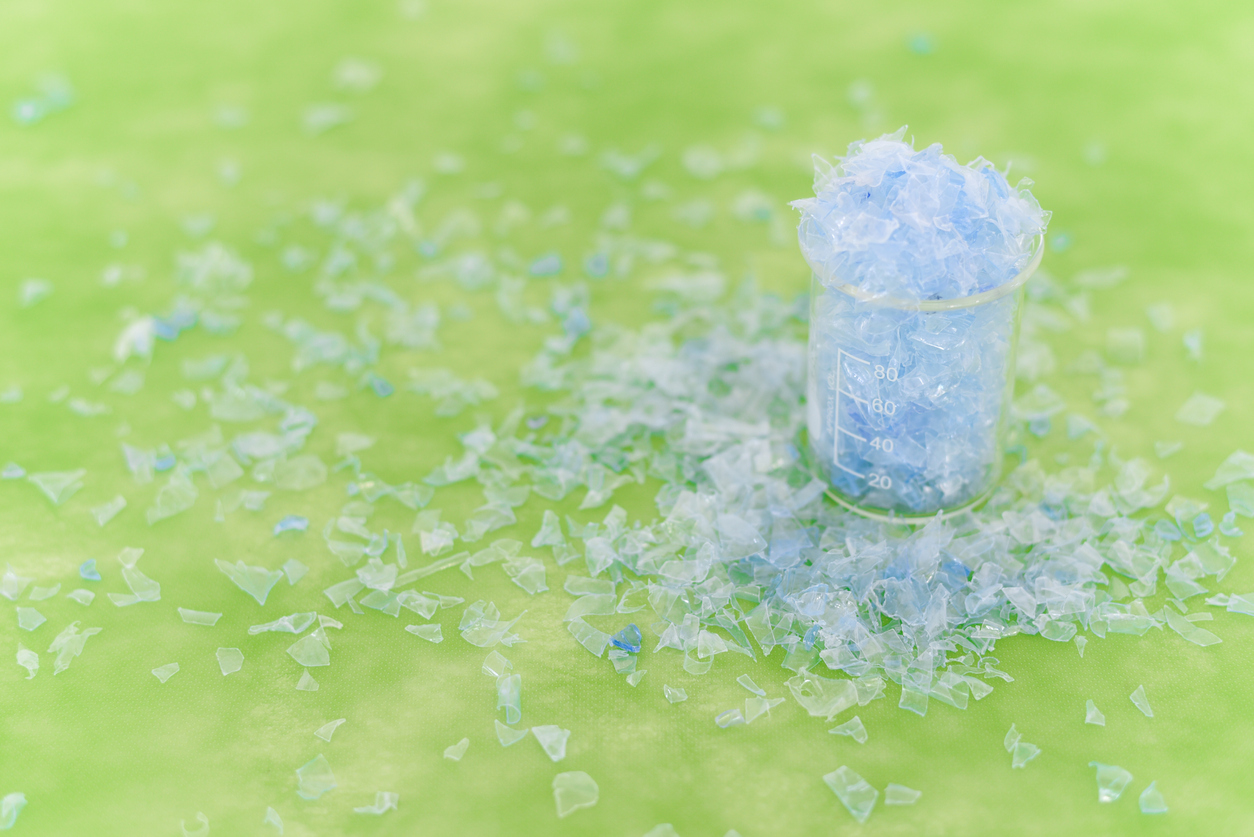 Imagine it's a hot summer day in July; temperatures have soared to the high 80s. Your first instinct after that family volleyball match is to grab the nearest drink of cold, refreshing water. Like millions of other Great Lakes residents, your drink is contained in plastic packaging.
More than half of waste released in a given year contains plastic materials. About 10,000 metric tons (or 22 million pounds) of plastic enter the Great Lakes every year, and another 8 million metric tons goes into the ocean. While plastic never decomposes, it does break down into much smaller, but no less environmentally hazardous components – called microplastics.
Microplastics include microbeads, fragments, fibers and other plastics smaller than 5mm in size. These particles can be introduced into the environment either through wastewater discharge, stormwater runoff, or degradation of plastic litter. Over the past few years, research into microplastics have increased, but not nearly at the same rate as their entrance into the Great Lakes.
As these microplastics enter into water environments, they become a more profound problem for ecological and human health. They act as toxic sponges and carriers, absorbing and transporting persistent organic pollutants and potentially harmful bacteria. Because they are difficult to detect and remove, they readily get in water supplies and food systems, which can lead to risks to ecological and human health.
Indeed, microplastics already exist in our water supplies and other food resources. Studies conducted by researchers surveyed 159 tap water samples taken from several countries and 259 bottled water samples across 11 brands. Results showed that 81% of tap water and 93% of bottled water contained microplastics. Microplastics are also found in food such as beer and sea salts.
In the Great Lakes, studies found an average surface water concentration of 43,000 microplastic particles per km2 with a maximum of nearly two million particles per km2 in the Detroit River. In addition, nearly all tested tap water samples in the Great Lakes region and beer samples made with Great Lakes water were found to contain microplastics. The Great Lakes ecosystem is indeed being exposed to microplastics. Without targeted mitigation, this issue will only get worse given continuously increasing production and consumption of plastics.
The battle against microplastics in the environment is not easy. Strategies to reduce microplastics associated with anthropogenic pollution sources are being surfaced by leading environmental organizations including the Great Lakes Protection Fund, which recently supported a project led by our team at Wayne State University (WSU) to develop technology that will not only help zero in on microplastic sources but will also accelerate a targeted microplastics reduction campaign and mitigation initiative.
This project, entitled Smart Management of Microplastic Pollution in the Great Lakes is a collaboration with many community partners such as the Ingham Conservation District, Reroot Pontiac, Clinton River Watershed Council, City of Williamston, City of Pontiac Policy Council, Tri-County Regional Planning Commission, Michigan Association of Conservation Districts, OHM Environmental Advisors, and Your Emerging Space (Pontiac, MI). The overall goal of this effort is to reduce microplastic presence in the Great Lakes through a microplastic reduction campaign and mitigation initiative that fosters positive change in public awareness and engagement to reduce microplastics pollution sources.
To start to understand where all of these microplastics are coming from, our team is developing an innovative Internet of Things (IoT) sensing technology that incorporates optical sensors, IoT technologies, machine learning, and edge computing to allow for more cost-efficient and timely monitoring and sourcing of microplastic pollution. Our team will deploy sensors at a pilot site in Pontiac, MI and another in Williamston, MI, located just outside of Lansing.
Our two pilot cities view this project as an opportunity to be leaders in understanding and addressing microplastic pollution. Their participation as part of our team will provide new knowledge and will benefit public understanding of the problem and lead to behavioral changes.
These two pilot locations are uniquely positioned to allow our team to understand different microplastic inputs into Great Lakes waters. These inputs include upstream sources such as wastewater discharge, urban runoff, and agricultural zones.
The sensors will provide data that our team will leverage to promote a microplastic reduction campaign employing several different mitigation strategies. Mitigation practices include:
microplastic filtering laundry bags that can filter 75%-86% of microplastics released during washes,
green infrastructure that can reduce up to 20-26% of stormwater runoff in urban areas, and
litter cleanup that minimizes the amount of plastic litter susceptible to degradation.
In addition to the microplastic reduction campaign, the project team will facilitate the scale-up of the effective strategies by engaging with community members, civic leaders and students to improve public awareness and overall engagement in the Great Lakes region. Our advisory board will aid in improving the technologies and will be instrumental in disseminating the most up-to-date understanding of microplastics to the many stakeholders in the basin who will continue to keep the Great Lakes region at the forefront of this science.
These dynamic pilots will serve as examples of how to utilize advanced sensor technology and social science to foster positive change in public awareness and engagement for the reduction of microplastics pollution sources. The development and deployment of sensing and other technologies and the broad implementation of active community engagement leading to behavioral change is crucial for reducing microplastics in the Great Lakes ecosystem.  The resulting water quality and ecological and human health benefits will be well worth the investment in this project.
____________________
The Fund wishes to thank Yongli Zhang and her team for this post.
Yongli Zhang is an assistant professor in the Department of Civil & Environmental Engineering at Wayne State University. Her teaching and research interests include water quality and emerging contaminants, environmental monitoring, and environmental impact assessment. Contact information: zhangyl@wayne.edu
Hira Majeed is an undergraduate student in the Department of Civil & Environmental Engineering at Wayne State University.
Lara Treemore-Spears is the project coordinator of "Smart Management of Microplastic Pollution in the Great Lakes" at Wayne State University.