Launched a $17 Billion Ballast Treatment Industry
How One Company Helped Pioneer Ballast Water Filtration and Took it to Market
Being in marketing and brand development for Hyde Marine is a globetrotter's dream. 
"In the last two months we've done presentations and interfaced with ship owners in the Black Sea, northern Turkey, Cyprus, and Greece and up in the Baltic Sea and Germany, the UK and Denmark," said Mark Riggio, senior market manager for the Hyde Marine and an industry knowledge leader.
In the 1990s, before the advent of ballast water management technology, Hyde Marine, then based in Cleveland, had eight employees. It now employs a staff of 70 and is based in Coraopolis, PA. While it doesn't disclose sales figures, Riggio says 2019 has seen "explosive growth" as ship owners worldwide comply with regulations that require ballast water filtration to prevent the transport of aquatic invasive species. 
The ballast water management industry is expected to grow by nearly 30% each year through 2024.
"There's been a hugely significant amount of growth in the market," Riggio said. "That's translating into revenues. It has been extremely busy, and we've noticed a significant change in people moving from a reluctance to comply to begrudging acceptance that they have to comply."
The First Ballast Water Filtration System
In 1996, the Fund launched the Great Lakes Ballast Technology Demonstration Project, partnering with the Northeast-Midwest Institute, the Lake Carriers' Association, and the University of Michigan. The team contracted with Hyde Marine to pilot a ballast water filtration system in response to the introduction of non-native species such as the quagga and zebra mussels to the Great Lakes in the ballast water in ocean-going vessels.
"Hyde Marine had a reputation as a good and smart engineering shop," said David Rankin, executive director of the Great Lakes Protection Fund. "They were a natural addition to this team."
Working with the project team, Hyde Marine installed the first experimental filtration system aboard the Algonorth, a ship docked in Duluth, MN. This work captured the attention of then-Ohio Governor George Voinovich who said in 2012, "One of the biggest threats [to the Great Lakes] are invasive species, and those invasive species have come into the lake in the ballast water of these big freighters from overseas. The technology to get at that ballast water was developed by an outfit right here in the Greater Cleveland area [Hyde Marine], and the initial funding came from the Great Lakes Protection Fund."
A Global Market
"The Great Lakes Protection Fund is essentially an angel-type grant to give us the means to develop a very effective filter," said Tom Mackey, one of Hyde Marine's founders, in 2012. "We ended up with these filters that don't add chemicals to the water."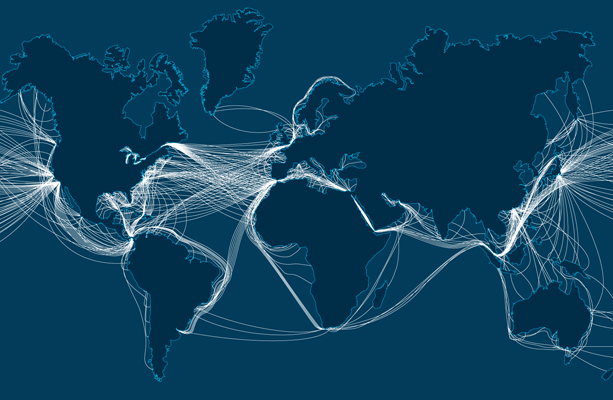 Hyde Marine learned from the experiments on the Algonorth, continued to improve its technology, and was acquired by Calgon Carbon, a global manufacturer of water purification systems. The marketplace for ballast water treatment systems is now extremely robust, with 22 ballast water vendors in 11 countries.
"It's unique for Hyde Marine in that we developed the product," Riggio said. "[…] they realized that it was a very complicated problem that required a unique design. Hyde Marine ended up developing the blueprint by which others said, 'oh that works,' so others did it, too."
While it was never the Fund's goal to back any specific treatment technology, there had to be a first demonstration to establish an undeniable precedent. The Fund recognized that the early movers, the people willing to go out on a limb and try something new, could lay the groundwork for an important shift in the status quo. Ultimately, these early innovators demonstrated global leadership in what has become a $17 billion dollar industry.
—
Start a Conversation
At the Fund, our goal is to build something—together—that delivers impact. You have an idea and a strategy in mind and we have a basin-wide perspective and experience launching new initiatives. We strongly encourage you to contact us to discuss an idea, whether fully formed or not, as a first step.
Email us at startaconversation@glpf.org