Creative Partnership Forges a Path to Innovative Green Infrastructure Funding in Grand Rapids
Guest Post by Carrie Rivette, City of Grand Rapids, and Jeffrey Odefey, American Rivers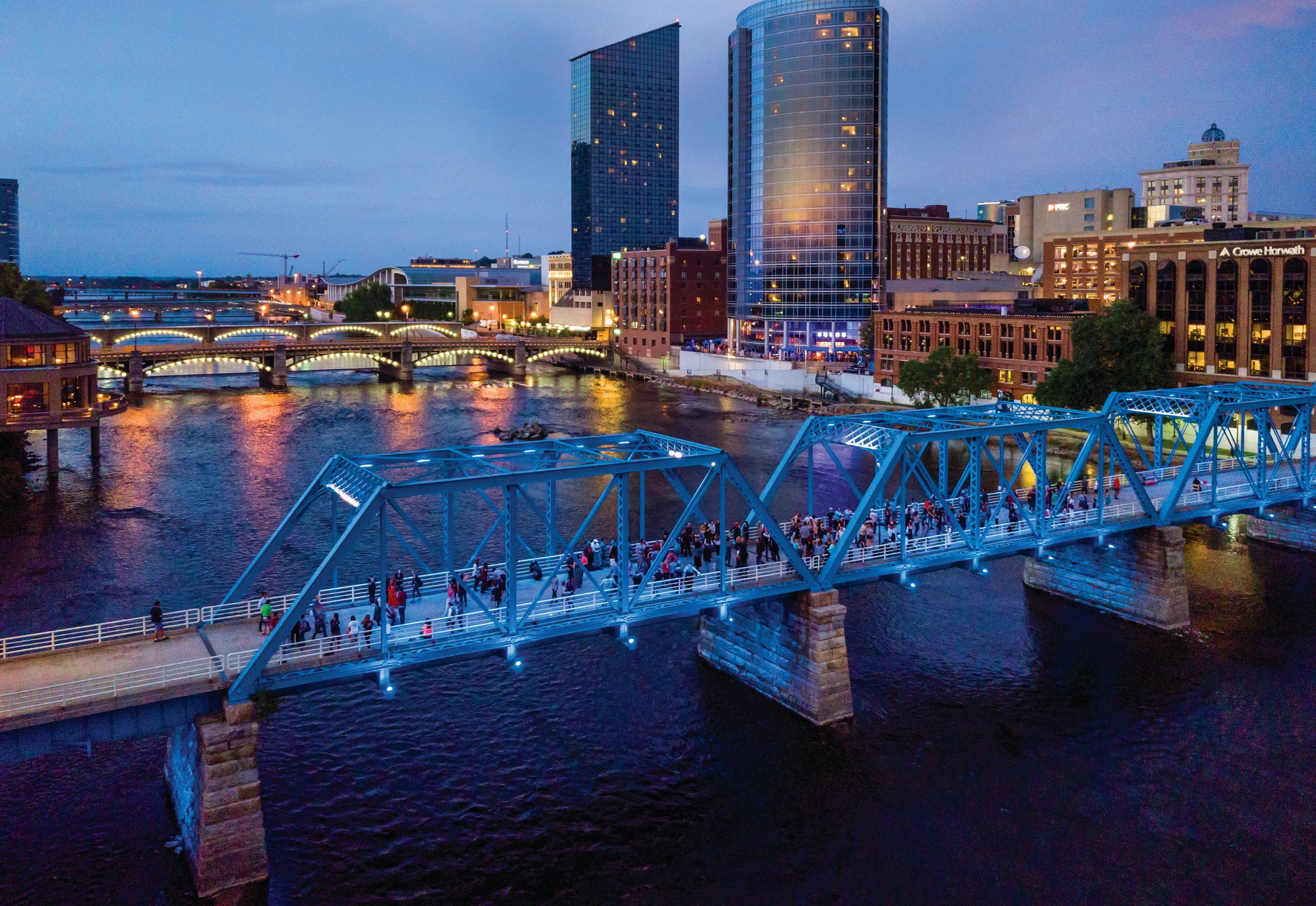 Jeff Odefey: I've been a river protection advocate for nearly 20 years, spending much of that time focusing on reducing the impacts that towns and cities have on our waterways. Along the course of that journey, I've come to realize we can't always point a finger at bad actor polluters or inadequate laws and regulation as the cause of impairments of our shared rivers and streams. Instead, one of the most significant obstacles to healthy waters is a lack of resources. There just isn't enough money to go around.
At American Rivers, we've come to accept we have a responsibility as advocates to find ways to fund the improvements we all seek to achieve. This ethic has led us to into some fabulous partnerships, giving us the chance to work with municipal stormwater agency staff and leaders who are committed to creating cities that are greener, cleaner and more closely connected to local rivers. Carrie Rivette and her colleagues at the City of Grand Rapids Environmental Services Department have been pioneers in bringing green infrastructure solutions to this vibrant Great Lakes city.
Carrie Rivette:  Since 2002, the City of Grand Rapids has been a leader in installing green infrastructure. We're proud we've installed several large green infrastructure projects on public properties. We're also proud that, in 2014, city voters approved an income tax increase extension to pay for a new and innovative program – known as Vital Streets – that requires the incorporation of green infrastructure and best mobility management practices for the entire community into our street projects. This important vote marked the start of low-impact development design for city streets that allowed us to install even more green infrastructure projects on public properties.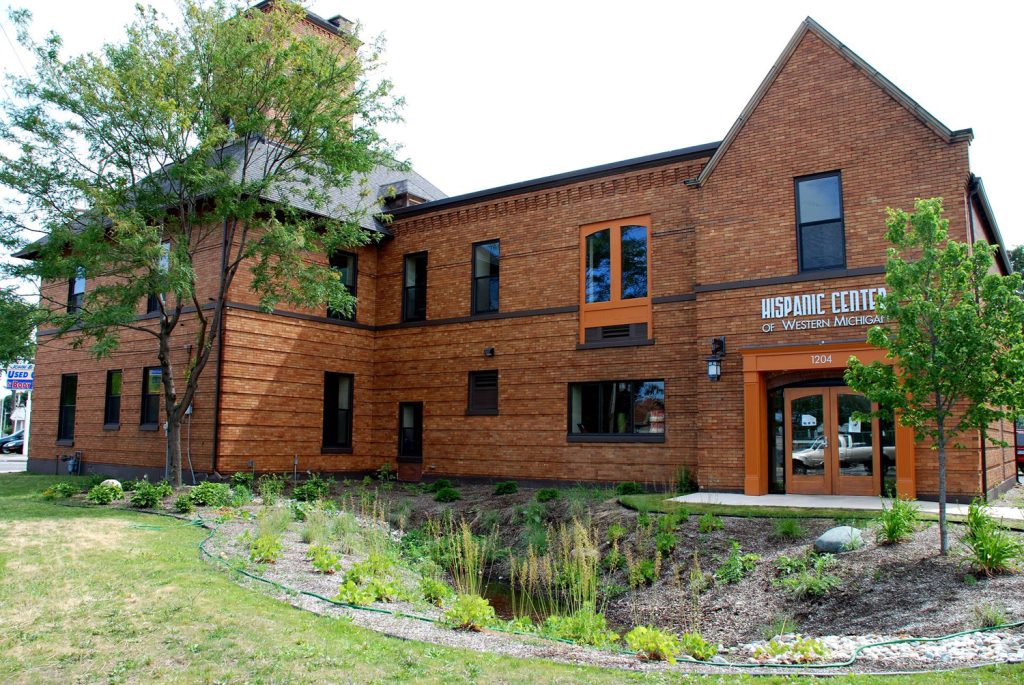 However, as in most cities, Grand Rapids has far more private properties than public properties where green infrastructure can be built. We also have far more resources within the private sector to fund and implement these projects. With a forthcoming MS4 (Municipal Separate Storm Sewer System) permit renewal by the State of Michigan, which includes stronger stormwater retention standards for new developments as a foundation, we've designed a stormwater credit trading program that gives private developers the flexibility to fund off-site green infrastructure to meet their regulatory requirements. This flexibility will preserve a vibrant and vital segment of our local economy while increasing the number and distribution of green infrastructure projects across the city. Our expectation is that property owners, local businesses and community-centered organizations will step in to create a supply of green infrastructure projects that will help developers and neighborhoods meet their stormwater management goals.
Here's how a stormwater credit trading program works. The new MS4 permit will require developers to retain a significant amount of stormwater on new real estate projects. Doing so can be technically difficult or impossible. In these cases, the developer can comply with the rules by buying stormwater retention credits from another property owner. The credit seller will have installed an equivalent amount of green infrastructure and committed to maintain it over the long-term. This market-based approach provides incentives for private property owners to build projects throughout the city. It also provides flexibility for developers seeking an affordable way to meet their obligations.
Jeff Odefey and Carrie Rivette: We learned about the successful stormwater credit trading program in the District of Columbia and presumed it was a solution only for larger cities with stormwater utilities. However, we were intrigued by the idea and worked to determine the feasibility of developing a similar program in Grand Rapids despite its differences when compared to the District of Columbia. We're thrilled to try it in Grand Rapids. With support from the Great Lakes Protection Fund (GLPF), we've created a joint project to take on the challenge of expanding the role of the private sector in installing green infrastructure and creating a cleaner, greener city and Grand River, which runs through the heart of our downtown.
The design of our stormwater credit trading program borrows heavily from the lessons learned by the District of Columbia in launching and running its program. Our local program is uniquely adapted for conditions in Grand Rapids. We've determined there's sufficient demand to sustain an economically feasible market and there are enough properties to create a supply of credit-generating projects.
We've also found that an important outcome to a functioning stormwater credit trading program is an increase in infrastructure investments in historically disadvantaged neighborhoods. As we've designed our program, we've intentionally and meaningfully connected with neighborhoods, small businesses and community organizations, learning how to address disparities and create opportunities for minority-owned businesses and lower-income property owners to participate in the program. Ultimately, we want the program to not only increase green infrastructure throughout Grand Rapids and improve water quality but also to generate jobs, provide benefits to disadvantaged neighborhoods and stimulate the local economy.
As we prepare to receive and implement our new MS4 permit, we look forward to continuing our partnership with GLPF to roll out the stormwater credit trading program and engage the community in its success. We're grateful for the lessons we've learned, the progress we've made and the chance to share our experience with other stormwater leaders. With limited City resources, this program would not have been possible without GLPF's partnership and support.
__________________
Carrie Rivette is Stormwater Manager for the City of Grand Rapids. Carrie is a Professional Engineer with a Bachelor of Science in Environmental Engineering from Michigan Technological University.  She has over 20 years of experience in the environmental and water resources field.
Jeffrey Odefey is the Director of Clean Water Supply Programs for American Rivers.  His work focuses on urban water systems, including green infrastructure, water conservation, and integrated water management as pathways to preserve and protect healthy waters and communities.