Meet the Winners of the 2019 Great Lakes Leadership Award: The Everglades Foundation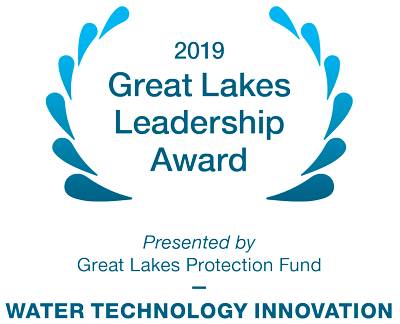 The Great Lakes Protection Fund is pleased to recognize the winners of the 2019 Great Lakes Leadership Award for Water Technology Innovation. We created the Leadership Awards to celebrate efforts that accelerate new actions for protecting and improving the Great Lakes and that have the potential to improve water quality on a global scale.
Winner: The Everglades Foundation, Palmetto Bay, Florida
Founded in 1993, the Everglades Foundation is a non-profit dedicated to leading efforts to restore and protect the greater Everglades ecosystem. They are attracting global talent to water quality problems by announcing a $10 million prize to the most scalable, safe, and cost-effective way to combat phosphorus pollution—a global problem shared by the Great Lakes, Florida, and many other places in the world.
Launched in 2016, the George Barley Water Prize—the largest water prize in history—aims to jumpstart new solutions to the environmental effects of phosphorus pollution that have been decades in the making. The Foundation has elevated the profile of this global problem and attracted more than 100 teams with new ideas and technologies to solve it. Since different technologies thrive under different conditions, the effort has identified a wide variety of solutions that will address challenges well beyond those in Florida.
"Through the George Barley Water Prize, The Everglades Foundation is attracting innovations in water technology and putting a global spotlight on the nutrient management challenges that we must address today. Its efforts are expanding the potential solutions to this critical problem," said David Rankin, executive director of the Fund.
"It is an honor to be recognized by such a prestigious award in the field of water innovation. The George Barley Water Prize represents our best hope for solving the algae crisis that is choking waterways worldwide and this award significantly recognizes and supports that mission," said Eric Eikenberg, CEO of The Everglades Foundation.
Modeled after the historic incentive prizes that spurred major scientific breakthroughs in the fields of aviation, genetics, and more, the Barley Prize was launched in 2016 and drew over 100 research teams and entrepreneurs from around the world. In the summer of 2020, the competitors, which have been narrowed to four final teams and one runner-up, will compete in the final phase of the prize, known as the "Grand Challenge," on the shore of Lake Jesup in Oviedo, Florida
Loren Parra, director of The George Barley Water Prize noted, "We are honored to be recognized by the Great Lakes Protection Fund for our role in fostering the development of technology that will reduce wetland destruction, habitat loss and toxic algal blooms in lakes, rivers and oceans worldwide."
Learn more by visiting EvergladesFoundation.org.
Find out more about the Great Lakes Leadership Award for Water Technology Innovation.